 Welcome to La Lunaja! Your space for rest and disconnection in the middle of nature. This cozy wooden cabin is perfect for couples or people looking to relax in a unique and magical environment.
Enjoy your beautiful balcony, surrounded by trees and the relaxing sound of the stream, so you can disconnect from the world and connect with yourself. In addition, its small fireplace provides you with the warmth and comfort you need for a restful sleep.
You do not have to worry about breakfast, since it is included in the value of the stay. You can also stay connected to the world thanks to our Wi-Fi service.
Come to La Lunaja and discover a space of peace and tranquility in the middle of nature.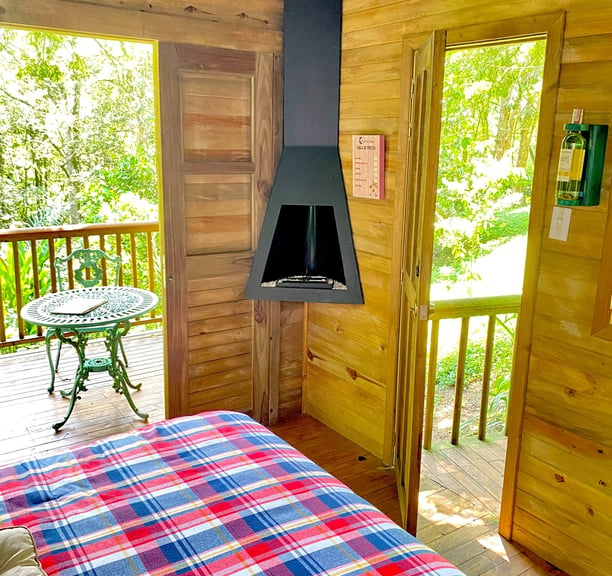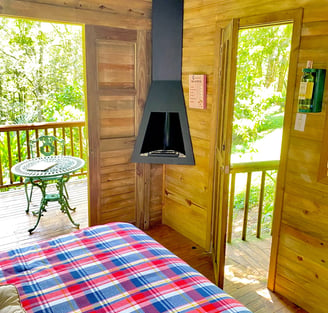 The fireplace in the La Lunaja cabin is the perfect complement to create a warm and cozy atmosphere. When the heat that emanates is turned on, it invites you to relax and completely disconnect from the daily routine.
The soft warmth of the fireplace creates a perfect romantic atmosphere for couples looking for a good moment to take a break and share together.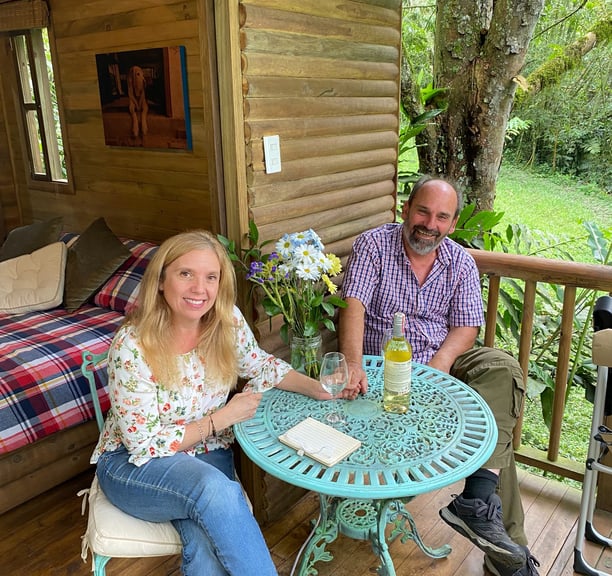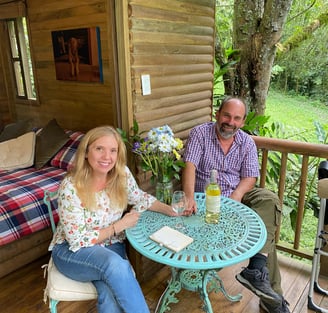 The balcony of the La Lunaja cabin is a special place where you can enjoy a pleasant view of the natural environment that surrounds it. With comfortable chairs and a table, it is the perfect place to enjoy an outdoor breakfast, have a coffee, read a book, enjoy a glass of wine, open your laptop or simply enjoy your rest.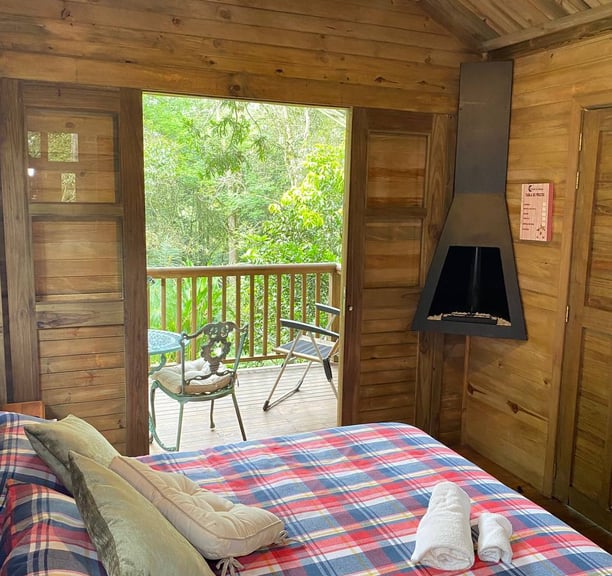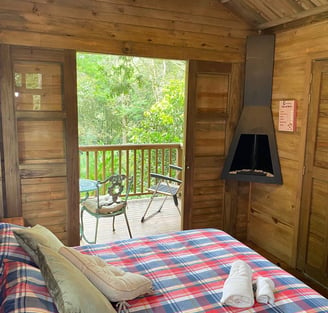 The bed in the La Lunaja cabin is a space designed for rest and comfort. With a queen size bed and soft pillows, you're sure to have a good night's sleep.
In addition, the room has a flat screen TV to enjoy a movie or series in your free time.
For those who want a moment of relaxation, the glasses of wine that we offer in the room are perfect to enjoy while enjoying the view from the balcony or resting in bed.
In short, the wooden cabin is a space carefully designed to provide you with maximum comfort and satisfy all your needs during your stay at Hostal La Lunaja.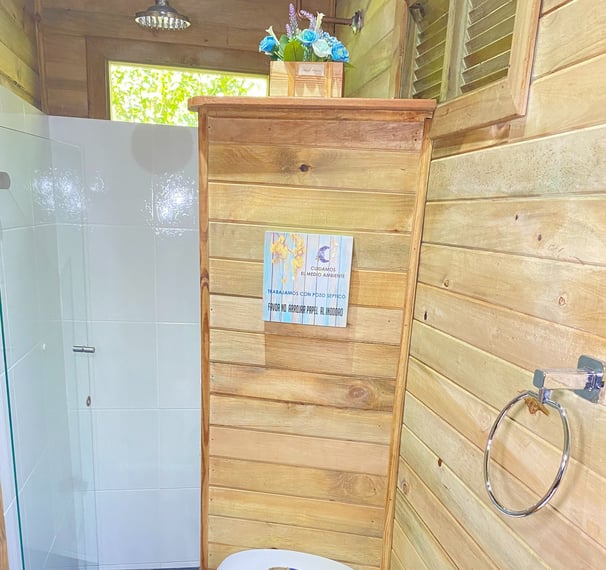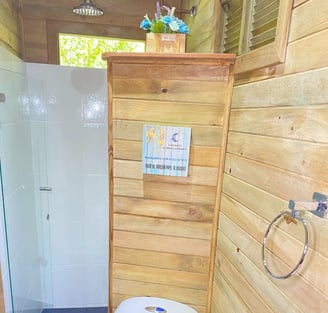 The bathroom of the La Lunaja cabin is a space with a unique style, comfortable and well equipped. Ideal for you to take a relaxing shower.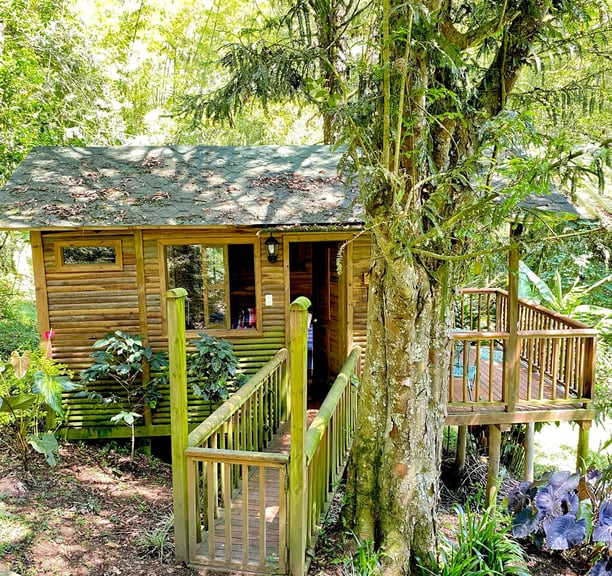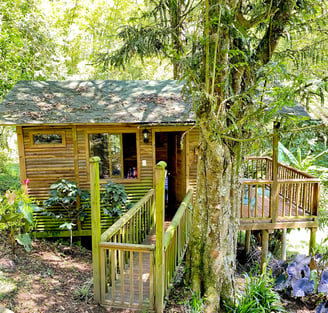 The wooden cabin at Hostal La Lunaja is a space that combines rustic charm with modern comfort. The wooden construction provides a cozy and warm atmosphere, while the carefully selected decoration and furniture provide a feeling of comfort and elegance.
In addition, the stone details and the natural elements such as plants and flowers, make the cabin integrate perfectly into the natural environment that surrounds it.
In short, this cabin is a unique lodging experience, where the charm of wood and nature combine to offer an unforgettable stay.
Come and live this healthy ecological experience!
We are waiting for your contact! At Hostal La Lunaja we love receiving our guests with the best care and making them feel at home. If you have any questions about our services and costs, write to us.
¡Welcome to Hostal La Lunaja!
If you are looking for a unique experience in contact with nature, you have come to the right place! We recommend you register to receive personalized attention about our services and to be able to help you in everything you need to make your stay unforgettable. Our customer service team is available to answer all your questions and help you with everything you need.